The Salaverry Port Terminal Project, Peru
About the Customer

Project Location: Los Trujillo – La Libertad – Peru
Formwork Specialist – Peru
Rodolfo Quesquen, EFCO Territory Manager
Freddy Vite C., EFCO Field Supervisor
Daniel Fernandez, EFCO Engineer
Project Requirements
Radial Formwork
A radial formwork system that would form the curved concrete sections. When assembled, the formwork section would result in a large volume and capacity silo to be used to store grains.
Concrete Columns
Formwork for concrete columns of variable and irregular shapes and dimensions for their warehouses.
Concrete Tunnels
A formwork solution that would optimize construction cost for forming the concrete tunnels, which would enable massive emptying of the silos in less time.
Formwork Used
Project Overview
Concrete Construction Projects
Consorcio Redram – Tucumann, is a consortium incorporated on November 29, 2019 to develop large-scale projects in the country. Redram, founded in 1974 of Brazilian origin, is dedicated to the development of various types of national and international concrete construction projects, such as airports, energy, urban paving, civil construction, special art works, roads, sanitation, bridges and port construction. In turn, Tucumann, also of Brazilian origin, founded in 1990, is an expert in the development of large port and airport infrastructure projects and industrial works.
Customer Benefits
Box Culvert System
The tunnel formwork system used for the construction of the tunnels was EFCO's BOX CULVERT system. The Box culvert traveler formwork system made inverted "U" shaped concrete shells in lengths of 24′ (7.20 m). The system is easy to assemble and cycle, speeding up productivity.
High Capacity Formwork
PLATE GIRDER® steel panels were supplied to form the columns. The PLATE GIRDER high-capacity formwork system is recognized in the market for its maneuverability and the quality fair faced concrete finish it creates.
Curved Concrete Wall
In comparison to the competitors, the REDI-RADIUS system requires less parts to assemble and the steel face sheets leave a smooth concrete finish. EFCO supplied 17 sets of REDI-RADIUS formwork that formed a curved concrete wall that was 35′-6″ (10.80 m) long x 10″ (0.25 m) wide x 8′ (2.40 m) high.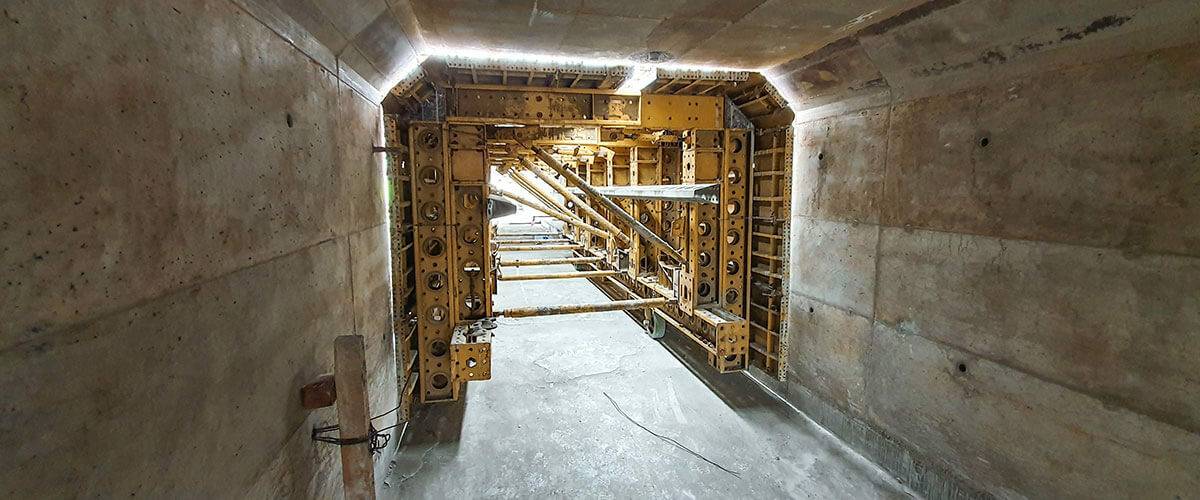 The Salvary Port Terminal Project Trujillo – La Libertad – Peru
The Salvary Port Terminal Project
Trujillo – La Libertad – Peru
The Salvary Port Terminal Project Trujillo – La Libertad – Peru
The Salvary Port Terminal Project
Trujillo – La Libertad – Peru
The Salvary Port Terminal Project Trujillo – La Libertad – Peru
The Salvary Port Terminal Project
Trujillo – La Libertad – Peru
The Salvary Port Terminal Project Trujillo – La Libertad – Peru
The Salvary Port Terminal Project
Trujillo – La Libertad – Peru
The Salvary Port Terminal Project Trujillo – La Libertad – Peru
The Salvary Port Terminal Project
Trujillo – La Libertad – Peru