Circular Wall Formwork For Concrete Cistern Tank Santa Rosa – La Pampa, Argentina
Circular Wall Formwork For Concrete Cistern Tank
Santa Rosa – La Pampa, Argentina
Forming Long Spans of a Slab Bridge-Chicago
Construction of Longs Spans of a Slab Bridge
Demotte, Indiana
Meeting Wall Formwork Standards In Mine Construction- Chile
Quebrada Blanca Mine
Pica, Región de Tarapacá, Chile
New Infrastructure Take Shape – Georgetown
Quebrada Blanca Mine
Pica, Región de Tarapacá, Chile
New Infrastructure Takes Shape
Between Mississauga and Milton, Canada
West Corridor Constructors (WCC) was awarded the design build of the Highway 401 project. WWC is an all-Canadian, fully integrated team comprised of Aecon Infrastructure Management Inc.
Meeting Formwork Standards In Mine Construction
Pica, Región de Tarapacá, Chile
The Quebrada Blanca mine is in the Tarapacá Region of northern Chile at an altitude of 14,500′ (4,400 m), 150 miles (240 km) southeast of Iquique and 930 miles (1,500 km) from Santiago.
Forming Long Spans Of A Slab Bridge
Demotte, Indiana
Construction has been completed on a slab bridge located over Barnard Ditch in Demotte, Indiana.
Circular Formwork For Concrete Cistern Tank Walls
Santa Rosa –La Pampa, Argentina
In 2020, the Aguas del Colorado SAPEM company started the bidding process for the construction of a cistern to increase the storage capacity of drinking water in the city of Santa Rosa, the capital of La Pampa province.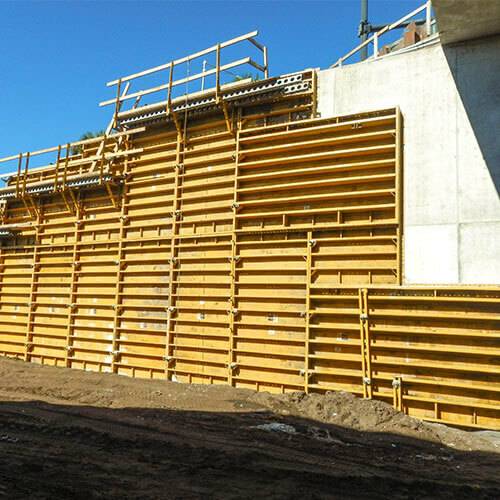 First In The Nation To Use This Innovative Method
Orlando, Florida
Brightline is constructing a high-speed inter-city railway line to bring passengers from Miami, Fort Lauderdale and West Palm Beach to Orlando.
Historical Sewerage System Meets Halfway Mark in Improvement Project
United Kingdom
The original sewerage and stormwater management system for London was a marvel of the Victorian age and completed over 150 years ago.