MEETING YOUR CONCRETE CONSTRUCTION NEEDS
At EFCO, we are committed to be the best and dedicated to supplying engineered forming and shoring solutions for our customers.
Why Choose EFCO? You will benefit from our employees' abilities, commitment, and passion for their work.
SALES
EFCO sales offices are located across the globe. Our team strives to make your construction project more efficient, faster, and safer to provide you the Lowest-In-Place-Concrete Cost.
In the concrete construction business, we know all projects start with an analysis and design of a forming and shoring system that meets the requirements of the project. Your EFCO representative will listen to your needs and help you identify the best forming system for your construction project. Our specialized formwork engineers and field supervisors work together, combining their professional talents. From the bidding process through engineering and the return of your formwork' EFCO sales support continues long after the contract is signed.
MANUFACTURING
Innovative, high quality forming products are manufactured at the site of EFCO's home office in Des Moines, Iowa. This manufacturing technology stands out from competing systems in the market, especially in safety. EFCO's current products will cover your forming and shoring equipment requirements for concrete construction.
DISTRIBUTION
EFCO is working successfully worldwide because we have real value to offer! One thing in common to all countries and all cultures is the recognition of value and high-quality products provided and delivered by EFCO. Distribution warehouses are located worldwide, and our plan is to under promise and over deliver.
PRE-ASSEMBLY
EFCO can provide a pre-assembly option for your formwork requirements.
E-COMMERCE
(EFCO ONLINE)
EFCO Online offers an internet-based self-service system to your equipment requirements, enhanced project management and increase efficiency to all EFCO's valued customers. Receive super service, 24 hours a day, 7 days a week!
Browse of review details of EFCO's product lines
Save shipping carts to purchase or lease equipment
Lease selected items for minimum duration
Review details of equipment already on lease for a project
Find helpful tips and information about EFCO products
Review account summary and customer aging reports
View and download EFCO product catalogs
For further information contact efcoonline@efcoforms.com.
GET TO KNOW THE EFCO SUPPORT TEAM
The support team at EFCO is ready to answer your forming questions and can help complete your project safely and profitably. At EFCO, we pride ourselves with over 85 years of product development and project applications. This is supported with quality formwork, shoring, engineering, and drafting teams. In addition to the support of EFCO's finest engineers and drafters, the wrap-around support team also includes:
Plant Manager
Assures delivery of your equipment and answers any questions about shipments and returns.
The Field Supervisor
Your on-site guide for planning, assembling, and cycling of equipment.
District Sales Administrator
Available to call for billing questions or to contact the support team should you need additional assistance.
Supportive Field Service
Our team of dedicated concrete forming and shoring specialists help contractors with jobsite planning, assembling, and cycling of equipment. Unique to EFCO is our team of field supervisors providing on-site assistance for customers in the assembly' application, and cycling of EFCO forming systems. Specially trained in the concrete construction industry' your EFCO Field Service representatives are on-site helping your crew with jobsite assembly. They can assist and help solve unexpected problems saving you time and money.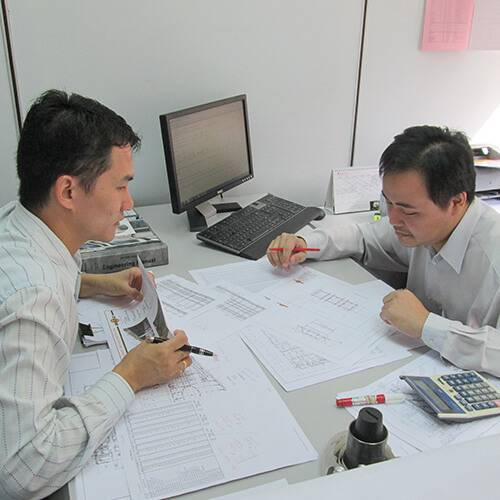 Engineering
With over 85 years of engineering experience, EFCO is second-to-none in the concrete forming industry. Known for innovative engineered solutions, EFCO listens to your exact needs, develops a solution and executes the plan. Our engineers focus on your project design' cycling of equipment' and cost savings through EFCO form erection drawings provided with every construction job.
Plant Manager
The EFCO plant managers ensure efficient daily operations of the plant, from the smooth production of your formwork needs to the quick delivery of your equipment. They are also available to answer questions about shipments and the return of your equipment.
District Sales Administrator
The EFCO district sales administrators are the people to call for support. They can connect you to the appropriate contact for sales, engineering, or field support when additional assistance is needed. They will efficiently handle any questions on invoicing, or payments.
LET'S GET TO WORK
Our experts are ready to help you find the right forming and shoring solutions for your construction needs.