MEETING YOUR CONCRETE CONSTRUCTION NEEDS
At EFCO, we are committed to be the best and dedicated to supplying engineered forming and shoring solutions for our customers.
Why Choose EFCO? You will benefit from our employees' abilities, commitment, and passion for their work.
SALES
EFCO sales offices are located across the globe. Our team strives to make your construction project more efficient, faster, and safer to provide you the Lowest-In-Place-Concrete Cost.
In the concrete construction business, we know all projects start with an analysis and design of a forming and shoring system that meets the requirements of the project. Your EFCO representative will listen to your needs and help you identify the best forming system for your construction project. Our specialized formwork engineers and field supervisors work together, combining their professional talents. From the bidding process through engineering and the return of your formwork' EFCO sales support continues long after the contract is signed.
MANUFACTURING
Innovative, high quality forming products are manufactured at the site of EFCO's home office in Des Moines, Iowa. This manufacturing technology stands out from competing systems in the market, especially in safety. EFCO's current products will cover your forming and shoring equipment requirements for concrete construction.
DISTRIBUTION
EFCO is working successfully worldwide because we have real value to offer! One thing in common to all countries and all cultures is the recognition of value and high-quality products provided and delivered by EFCO. Distribution warehouses are located worldwide, and our plan is to under promise and over deliver.
PRE-ASSEMBLY
EFCO can provide a pre-assembly option for your formwork requirements.
E-COMMERCE
(EFCO ONLINE)
EFCO Online offers an internet-based self-service system for your equipment requirements, enhanced project management and increased efficiency to all EFCO's valued customers. Receive super service, 24 hours a day, 7 days a week!
Browse or review details of EFCO's product lines
Save shipping carts to purchase or lease equipment
Lease selected items for minimum duration
Review details of equipment already on lease for a project
Find helpful tips and information about EFCO products
Review account summary and customer aging reports
View and download EFCO product catalogs
For further information contact efcoonline@efcoforms.com.
GET TO KNOW THE EFCO SUPPORT TEAM
The support team at EFCO is ready to answer your forming questions and can help complete your project safely and profitably. At EFCO, we pride ourselves with over 85 years of product development and project applications. This is supported with quality formwork, shoring, engineering, and drafting teams. In addition to the support of EFCO's finest engineers and drafters, the wrap-around support team also includes:
Plant Manager
Assures delivery of your equipment and answers any questions about shipments and returns.
The Field Supervisor
Your on-site guide for planning, assembling, and cycling of equipment.
District Sales Administrator
Available to call for billing questions or to contact the support team should you need additional assistance.
Supportive Field Service
Our team of dedicated concrete forming and shoring specialists help contractors with jobsite planning, assembling, and cycling of equipment. Unique to EFCO is our team of field supervisors providing on-site assistance for customers in the assembly' application, and cycling of EFCO forming systems. Specially trained in the concrete construction industry' your EFCO Field Service representatives are on-site helping your crew with jobsite assembly. They can assist and help solve unexpected problems saving you time and money.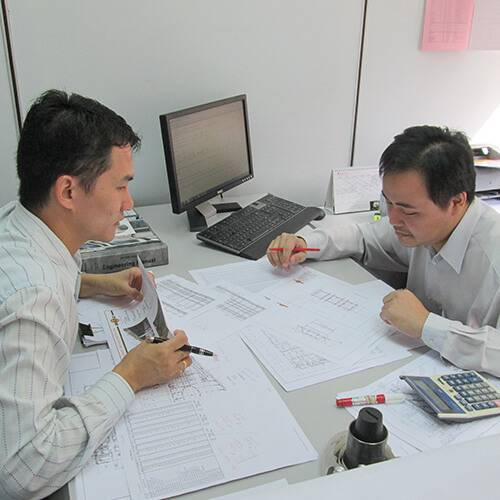 Engineering
With over 85 years of engineering experience, EFCO is second-to-none in the concrete forming industry. Known for innovative engineered solutions, EFCO listens to your exact needs, develops a solution and executes the plan. Our engineers focus on your project design' cycling of equipment' and cost savings through EFCO form erection drawings provided with every construction job.
Plant Manager
The EFCO plant managers ensure efficient daily operations of the plant, from the smooth production of your formwork needs to the quick delivery of your equipment. They are also available to answer questions about shipments and the return of your equipment.
District Sales Administrator
The EFCO district sales administrators are the people to call for support. They can connect you to the appropriate contact for sales, engineering, or field support when additional assistance is needed. They will efficiently handle any questions on invoicing, or payments.
EFCO-Gear
Performance workwear and accessories for all our EFCO fans in concrete construction, available right here on our online store! The EFCOgear store carries an abundance of construction clothing and accessory options, sure to be perfect for your needs.
Ranging from protective hard hats, decorative hardhat stickers, and pencils, to t-shirts, polos, and hats –  we have all the perfect items to wear onsite, or even for daily personal wear!
Order your EFCOgear today to show everyone how you're part of the EFCO family!
EFCO's Engineering Experts – Answer your Questions!
How do you determine the pressure exerted on formwork when pouring concrete?
Concrete form pressure is determined based on the height of concrete being placed. The height of concrete times the density of concrete will determine the pressure exerted on the forms at a given depth. EFCO forms, such as PLATE GIRDER, are rated for a maximum allowable pressure to be exerted from the concrete. As concrete transitions from a flowable liquid mix to a solid, the concrete will no longer continue to build pressure with depth. Monitoring this transition point is important to ensure the allowable pressure on the forms isn't exceeded. For more information, see "A Practical Guide to Concrete Pressure & Formwork"
What are Engineered Formwork Systems?
Engineered formwork systems consist of prefabricated steel panels. The advantage of using these systems are to increase the speed of construction, increased durability and longevity, and the ability to span formwork across supports. EFCO provides a wide variety of products including HAND-E-FORM, EFCO LITE, PLATE GIRDER, and SUPER PLATE GIRDER. For more information on what system would best fit your applications, please contact us.
What is shoring in concrete construction?
In concrete construction, shoring is referring to temporarily supporting overhead concrete, typically floor slabs or beams, while concrete is being poured or curing. These shoring systems typically consist of beams, posts, and bracing components. EFCO provides a wide variety of products including EFCO DECK, E-Z DECK, PRO-4, and ADJUST-A-DECK to shore a wide variety of overhead concrete. For more information on what system would best fit your applications, please contact us.
How long should concrete cure before removing/stripping forms & slab shoring?
The duration of time between placing concrete and removing/stripping formwork and shoring depends on a variety of factors, but it is ultimately based on age criteria and the minimum concrete strength determined by the project engineer/architect (reference ACI 347-R14; 5.7.1). Example factors that affect concrete strength include methods of cure, construction sequence, and project schedule. Based on the various criteria established by the project engineer/architect, the removing/stripping time can range from 12 hours to 28 days. The removing/stripping time can often be increased when supplemental concrete supports are used. Examples would include EFCO's Box Culvert Roof Support System that temporarily supports the top slab of a box culvert while the forms are cycled ahead to the next pour. Another example would be the EFCO DECK shoring system which includes a "drophead" feature that enables contractors to strip joists and stringers early while the posts continue to support the recently placed slab.
What is the difference between pre-tensioning (prestress) and post tension concrete?
Pre-Tensioning: Steel tendons (wires, strands, or bars) are tensioned before the concrete is placed in the form. Once the concrete has cured to a sufficient compressive strength, the tendons are released and the prestressing force is transferred to the concrete by the bond along the length of tendon. Pre-tensioning methods are typically used by precasting companies creating precast concrete elements used in building construction.

Post-Tensioning: Steel tendons (wires, strands, or bars) are tensioned after the concrete has been cured to a sufficient compressive strength. The steel tendons are typically placed in the formwork before the concrete is case inside a hollow steel duct. Tendons are typically anchored at one end inside the concrete (anchor block) with long strands extending out the opposite free end. Hydraulic jacks are connected to the tendons extending from the free end, tensioned, then tied off creating permanent tension in the steel and compression in the concrete. Post-tensioning is typically used in long span bridge construction and commercial slabs.
What is the difference between formwork and shuttering?
Formwork can refer to an engineered system that is used to efficiently form and support poured concrete.
Shuttering generally refers to using plywood and timbers to create a mold for pouring concrete.
What is the difference between stripping the formwork and striking the formwork?
The removal of concrete formwork can be described as either stripping or striking.
A concrete slab is typically a flat, horizontal surface. Concrete slabs that are poured on the ground are described as being "on grade" versus an elevated slab, such as a floor of a building that can be formed with E-Z DECK.