Making Visions Reality Using Formwork and Shoring for Concrete Systems
Read time: 4-minutes
EFCO Concrete Formwork Solutions Making Visions Reality
Picture this: a luxury hotel, countless flats and villas, private vacation home rentals, an 18-hole on-site golf course, and a manufactured crystal-clear lagoon. Can you picture it? Now imagine this all at the heart of Orlando, Florida, right at the edge of Walt Disney World. This vision is coming to fruition, and it is called the Evermore Orlando Resort, which includes the Conrad Orlando hotel. EFCO has partnered with PCL Construction, providing formwork solutions to make this hotel construction a reality.  
Concrete Formwork Construction Used for Evermore Resort
Evermore Orlando Resort is 1,100 acres of resort life. A focus of this project is Conrad Orlando, a hotel on the property that will have 433 rooms, offering standard hotel rooms and several types of suites for various guest needs. Conrad Orlando officially broke ground in March of 2021 and is expected to welcome its first guests in the summer of 2023. The hotel is joined by numerous flats, villas, and vacation homes, making Evermore Orlando the largest resort of its kind. 
Mega-Resort Project with Experienced Concrete Formwork and Shoring Systems Specialists  
When PCL Construction took on this mega-resort project, they knew they would need an experienced formwork partner. Having worked on many projects over the last several decades, PCL decided to put EFCO's steel formwork and shoring systems to the test.  
Hands-On Training and Support 
Demonstrating Formwork Assembly  
 EFCO first shared the formwork and shoring plan with PCL Construction, then demonstrated how the equipment worked at PCL's yard. PCL found EFCO's equipment, solutions, and engagement with their team impressive. EFCO worked with the PCL project team to meet a few special requests to fit project conditions. EFCO's standard equipment had the features that PCL needed, including the ease of assembly and unique features only EFCO could offer.
EFCO's Concrete Construction and Forming Institute
In-depth Training on Formwork Systems
PCL Construction chose EFCO and had their project management team attend in-depth training using the complete EFCO formwork and shoring systems. The training was held in Des Moines, Iowa, at EFCO's Concrete Construction and Forming Institute. The PCL management team walked through the entire process with EFCO Engineering and Formwork Specialists at EFCO's Corporate Office in Des Moines, Iowa. After leaving the Institute, PCL was confident they had found the best formwork solution!
EFCO was very obliging to teach us everything about their systems. EFCO brought a system out to our yard and allowed our general foreman and our foremen to go out there and put several of the systems together for the E-Z FLY tables so that we could get a feel of what it was going to look like.
-Branden Stephan, General Superintendent
PCL Construction
Time to Work! 
EFCO E-Z FLY System,
PLATE GIRDER
, EFCO LITE and E-BEAM & SUPER STUD
Once these solutions were determined, it was time to get to work! PCL Construction used the EFCO E-Z FLY system, EFCO PLATE GIRDER®, EFCO LITE® Column formwork, and E-BEAM and SUPER STUD® core forms to get the job done.  
Quickly Shoring with E-Z FLY Formwork System
The E-Z FLY system has been a great solution in quickly shoring the Conrad Orlando hotel into a multi-level building. The large, lightweight E-Z FLY tables are pre-assembled at ground level using standard EFCO equipment and flown by a crane to the live level. Once in place, workers move them into position with EFCO's Crazy Wheel Dollys.
Have a challenge?
EFCO Has a Formwork Solution
One of the challenges at the Conrad Orlando hotel was an architectural feature of a unique-shaped opening on each floor that rotates at every level, similar to a spirograph. PCL was determined to keep using the same productive E-Z FLY formwork system. Therefore, EFCO's Engineering team accommodated the architectural feature by mounting the E-Z FLY tables on SUPER STUDS and swivel wheels to produce a unique solution to meet PCL's needs. 
Cantilevers at the Edge
E-Z FLY Tables
Most importantly, E-Z FLY tables have the unique ability to cantilever at the edges of each level and enable the reshoring on the floor below to be on the inside of the curtain wall allowing the other trades to work underneath the active floor. This feature helped the contractor save a tremendous amount of time.
The fact that I can have my exterior wall chasing my formwork system is unbelievable; the faster we go, the less it will cost. …We are far exceeding our expectations for our productivity. We are almost cycling a 19,000 square foot deck in two days.
-Branden Stephan, General Superintendent
PCL Construction
Foundation and Wall formwork
The PLATE GIRDER® formwork system was primarily utilized for the foundation and wall forms. It enabled the PCL crew to complete the work with tieless configurations. The large picks required fewer operations, saving time and money. The PLATE GIRDER system has left a smooth concrete finish, requiring less rubbing and patching.  
Heavy-Duty Hinges and Metal Chamfers
Improves Cycle Time
PCL is using EFCO's PLATE GIRDER and EFCO LITE® column formwork with heavy-duty hinges and steel chamfer for an easy and safe way to pick an entire column in one operation. Using this combination vastly improves cycle times, as the hinges allow for quick setup and removal.  
Large Picks for Fast Core Cycle Times
Fast Core Connection for Core Construction 
The E-BEAM® and SUPER STUD® core forms were moved in large picks providing quicker cycle times on the 13 cores completed on this project. Heavy-Duty Outside Corner Hinges were used to create a fast corner connection on the PLATE GIRDER® and EFCO LITE® column formwork. On the PLATE GIRDER, SUPER STUD, and E-BEAM core formwork, the manual stripping corners stay attached to the formwork during cycling resulting in reduced labor costs, speeding up the job progress, and producing a better concrete finish.  
Rick Goldman, Vice President & District Manager of PCL Construction, had this to say about the project, "PCL is proud to have begun work on this project, and we look forward to working together to build success for our partners."
EFCO is proud to be a part of this project and hopes to continue our partnership with PCL in the future.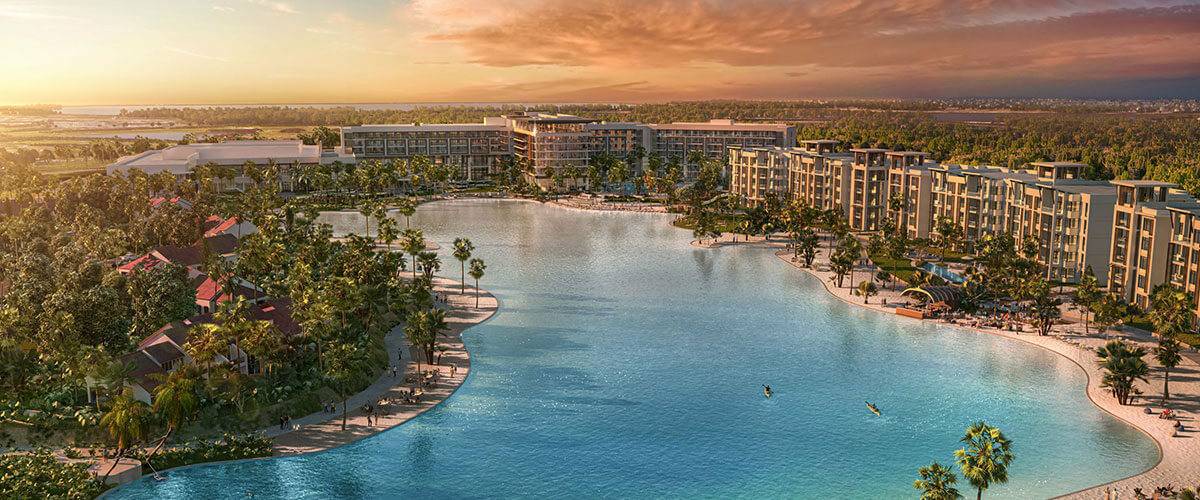 Evermore Orlando Resort | Orlando, Florida
Evermore Orlando Resort 
Orlando, Florida
Evermore Orlando Resort  | Orlando, Florida
Evermore Orlando Resort
Orlando, Florida
Evermore Orlando Resort  | Orlando, Florida
Evermore Orlando Resort
Orlando, Florida
Evermore Orlando Resort  | Orlando, Florida
Evermore Orlando Resort
Orlando, Florida
Evermore Orlando Resort  | Orlando, Florida
Evermore Orlando Resort
Orlando, Florida
Evermore Orlando Resort  | Orlando, Florida
Evermore Orlando Resort
Orlando, Florida
Evermore Orlando Resort  | Orlando, Florida
Evermore Orlando Resort
Orlando, Florida
Evermore Orlando Resort  | Orlando, Florida
Evermore Orlando Resort
Orlando, Florida
Evermore Orlando Resort  | Orlando, Florida
Evermore Orlando Resort
Orlando, Florida
Evermore Orlando Resort  | Orlando, Florida
Evermore Orlando Resort
Orlando, Florida
Evermore Orlando Resort  | Orlando, Florida
Evermore Orlando Resort
Orlando, Florida
EFCO's Orlando District, the Formwork and Shoring Specialists for This Project
---
Orlando, Florida

1001 Gills Drive
Orlando, FL 32824-8041