PLATE GIRDER COLUMN FEATURES
Available in widths of 2′ to 12′ and lengths of 1′ to 12′
Produces an architectural concrete finish
Withstands pour pressures up to 4700 lb/ft2
Forms columns up to 12′ x 12′ without ties
Safe to climb with proper restraint equipment
Heavy Duty Column Formwork
The EFCO PLATE GIRDER® Forming System is versatile for self-spanning applications and walls. In addition, it is an excellent form for rectangular columns. Use the PLATE GIRDER panel with the ribs horizontal for a vertical column, and you can produce an excellent architectural column without any internal ties.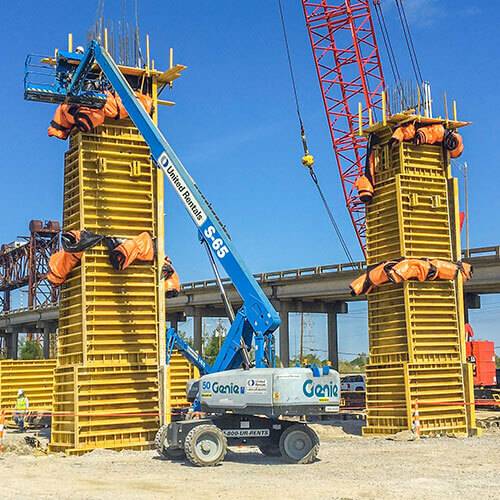 Z-RIB® Design for Climbing Columns
The EFCO Z-RIB design lets you climb the forms with appropriate safety equipment without needing a ladder. Each rib acts as a rung. Easy access and accessories always where you need them for the next setup are benefits of the EFCO system. Labor savings are significant.
Outside Corner Stability with Quick Bolt®
The simple and easy-to-use outside angle corner with the high-strength excellent tensile qualities of the EFCO Quick Bolt easily carries the column concrete pressures around the corner.
Benefits of the EFCO Quick Bolt®
The EFCO Quick Bolt® is the fastest and lightest form fastener available. No hammer is required with this fast, six square threads-per-inch fastener. In just seconds, the Quick Bolt® assembly can be inserted, nutted, and tightened with a spud wrench to achieve a tensile capacity of 19,000 lb working load and a single fastener shear capacity of 9,000 lb to connect form panels.
The same Quick Bolt® fastener can connect panels, scaffolding, top and bottom yokes, aligning and bracing, and accessories, including pipe braces, to the system. When the EFCO SUPER STUD System works for you again, only the single EFCO Quick Bolt is used for a fastener. In contrast, clamp-type systems only connect panels.
PROJECT PHOTOS
---
Do you have a Question?
We are ready to assist you in finding the best forming and shoring solutions for your construction projects.