I-4 Direct | Orlando, Florida
Self-Spanning Formwork for Inverted Tee Pier Caps
Orlando, Florida
New Flyover Ramp on Florida Turnpike
Superior Construction chose EFCO as their formwork and shoring partner on a new flyover ramp connecting Interstate 4 to the Florida Turnpike. This $80M design-build construction project provides an increased level of traffic safety to the interchange.
Column and Cap Formwork
EFCO provided a column and cap formwork package to construct 12 intermediate piers, including two 13′-6″ tall straddle bents up to 150′ long over I-4 eastbound and one 104′ long inverted tee spanning over the Florida Turnpike northbound lanes.
Traffic Flow Active – During Bridge Cap Construction
The EFCO Super PLATE GIRDER® paired with Heavy Duty Tension/Compression forms provided increased spanning capabilities across the roadway, enabling all active lanes to remain open. The EFCO solution achieved the lowest in-place concrete cost in this absolute requirement on one of Florida's busiest interstates. Why trust anyone else?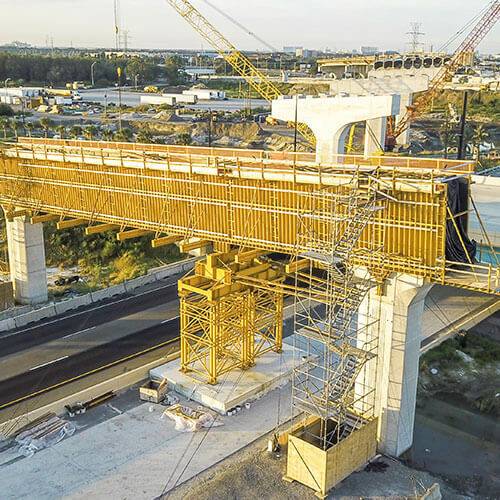 Temporary Girder Bracing
Superior Construction also chose the newly designed EFCO Heavy Duty Strut for temporary girder bracing. Due to the strut's high tensile and compressive strengths, Superior decreased the number of cross members and precast holes in the girders on all 13 spans of the superstructure.
Safety Improvements to Central Florida Roadways
The newly constructed 2,000′ ramp, express lanes, and roadway improvements bring much-needed traffic safety improvements and ease of access between two of Central Florida's major roadways. The Superior Construction team worked closely with the EFCO sales and engineering teams to build a solution that fit their needs and led to the completion of a successful project.
Superior Construction TEAM
Adam Brown, Orlando Project Manager
Ryan Hamrick, Tampa Project Manager
Kenny Wooten, Superintendent