NASA Causeway Bridge Replacement | Titusville, Florida 
Innovative

Ganged Heavy

–

Duty Bridge Overhang System
Titusville, Florida

 
Improving Access to America's Center of Space Travel
Orion Marine Construction, Inc. was awarded the $125-million-dollar NASA Causeway Bridge Replacement Project in Titusville, Florida. The NASA Causeway Bridge provides the primary roadway access to the Kennedy Space Center, Space X, and Blue Origin. The final bridge layout will be twin 4,025′ (1,230 m) long, high-level spans over the Intercoastal Waterway, replacing the twin bascule bridges built in 1964.  
EFCO has worked with Orion Marine Construction, Inc. (OMC, Inc) in Florida for years, and EFCO worked with the Orion team early in the bid process to provide the lowest in-place concrete costs for the entire project. The OMC, Inc. project team has been fantastic to work with and welcomed EFCO to be part of the team during the entire process. 
Water-based Double Bullnose Footers
EFCO provided complete engineering and design services for the water-based double bullnose footers being constructed from seal slabs hung from the precast piles. EFCO's design allowed the footer formwork to act as both the concrete formwork and a fully accessible coffer cell making the interconnected cells able to form a water-tight wall.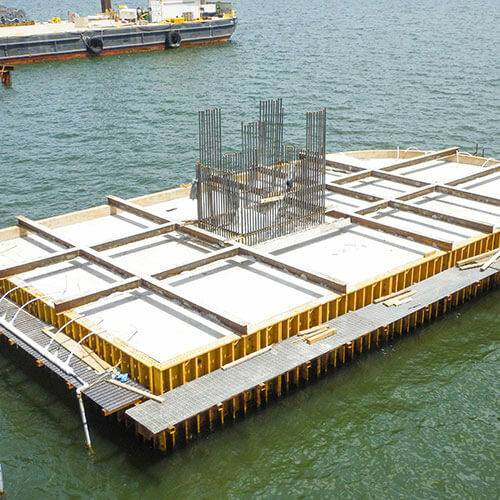 Construction of Columns with Fillet Corners
Along with the footers, EFCO was also asked to provide PLATE GIRDER formwork for the 12' x 6' (3600 mm x 1800 mm) columns with fillet corners and rustication. With variable heights up to 60' (18.3 m) tall, the single stem cap formwork on the top of the columns measured 11' tall x 54' long x 6' wide (3.4 m tall x 16.5 m long x 1.8 m wide). 
High Tensile & Load Capacity Formwork Brace
Along with the substructure formwork, EFCO has a full complement of the superstructure products we provided on the project. For bracing of the precast Florida I-Beams (FIB), EFCO has designed a high tensile and compressive load capacity formwork brace that can be utilized to minimize the number of bracing points required. Additionally, the brace eliminates the insertion of tensile rods and 4"x 4" (100 mm  x 100 mm) multi-axis bracing points.  
Bridge Overhang Gang Formwork System
EFCO supplied around 1,400 LF (425 LM) of the HEAVY-DUTY BRIDGE OVERHANG gang formwork system. This innovative technology utilizes shoes fixed to the web of the standard FIB precast beam to support the overhang gangs at a 20' (6 m) span. The HD BRIDGE OVERHANG system is designed for efficiency and safety, with a single crane pick allowing for easy lifting and transporting of materials. Workers remain safely above the gang while completing set-up and dismantling operations. The team set up both sides of 312 LF (95.1 LM) in a single ten-hour day. 
Thank You, Orion Marine Construction, for Choosing EFCO!
EFCO is very appreciative and proud to work with a legacy customer like Orion Marine Construction, Inc once again. Orion is a talented group building an excellent addition to Florida's East Coast transportation corridor. 
EFCO EQUIPMENT
Contact our Orlando office today
1001 Gills Drive
Orlando, FL  32824-8041 
Phone: (407) 888-3331 
Orion Marine
CONSTRUCTION TEAM
Cory Donoghue, Sr. Project Manager  
Mike Sheffer, Project Manager  
Grant Garner, Project Engineer  
Edson Corredor, Project Engineer  
Franki Vallejo, Concrete Superintendent  
EFCO FORMWORK SPECIALISTS–Orlando
James Cannan, Sr. Territory Manager 
Frank Bonventre, Sr. Field Supervisor 
Aaron Tang, Engineer