Temple of Antofagasta | Antofagasta, Chile
Quick Installation of Forming and Shoring Products
Antofagasta, Chile
The Construction of the Temple of Antofagasta
Ingeniería y Construcción MST, a trusted and long-time user of EFCO products, was awarded the contract to construct a 2,135 m2 (23,000 ft2) temple in Antofagasta, Chile, expected to be completed in late 2024. This is the third temple constructed by The Church of Jesus Christ of Latter-day Saints in the city and consists of three structures: the Temple, the Ancillary Building, and the Utility Building.
Concrete Construction for Walls and Columns
To pour the concrete foundations, columns, walls, and slabs for the Templo Antofagasta, MST cycled through approximately 17,000 m2 (183,000 ft2) of formwork. They used the rugged and versatile PLATE GIRDER® formwork system recommended by EFCO. This system allows for the efficient movement of large gang assemblies, minimizing crane usage.
Working Platform made with SUPER STUD
A perimeter work platform is required to safely and efficiently install the formwork and pour the concrete for the second-level walls. To achieve this, Ingeniería y Construcción MST used EFCO E-BEAMS secured to SUPER STUD® brackets and topped off with plywood. This gave workers a safe and sturdy platform that spanned the length of the wall.
Quick Installation of Concrete Slabs
The double-height slabs for the Templo Antofagasta were constructed using the versatile EFCO E-Z DECK® system. This system consists of lightweight aluminum panels and posts assembled safely on the ground, then topped with Z-BEAMS®, E-BEAMS®, and plywood. Because of the high strength rating (up to 28 kips per leg) of the E-Z DECK Posts, they were able to minimize the number of posts needed. Fewer overall pieces and parts resulted in a more economical system that is quick to install and cycle.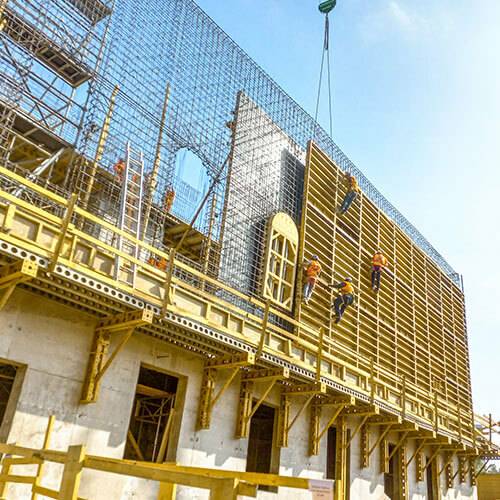 Why Ingeniería y Construcción MST Chose EFCO
The panels of the PLATE GIRDER® formwork system required minimal bracing and alignment, resulting in faster installation and improved overall efficiency. Ties were only needed for every 4.5 m2 (48 ft2) for a two-sided wall, resulting in swift installation and dismantling. Using all-steel PLATE GIRDER forms streamlined operations, reduced labor, and ensured an excellent concrete finish.
This project was the first time MST used EFCO's E-Z DECK to construct buildings of this size. E-Z DECK and the other EFCO systems onsite offered adaptability, fast installation, strength, and durability. EFCO displayed its expertise on this project by providing innovative engineered solutions, quality products, and Super Service to demonstrate the lowest in-place concrete cost.
EFCO EQUIPMENT
Contact our CHILE office today
Carretera General San Martin 7400,
Quilicura, Santiago
Phone: (56-2) 2591-4000
Ingeniería y Construcción MST TEAM
Jaime Mardones, Project Manager
Ricardo Garrido, Job Administrator
Dario Vera, Job Chief
EFCO FORMWORK SPECIALISTS–CHILE
Claudio Cerda, Territory Manager
Cristian Santibáñez, Field Supervisor
Conrado Llanza, District Engineer