I-35 INTERCHANGE EXPANSION
Dallas, Texas
SAFETY AT SEA
Somerset, United Kingdom
MULATOS TUNNEL
Bolombolo, Antioquia, Colombia
UNIQUE V COLUMN
Aurora, Colorado
QUALITY CONCRETE FINISH
Marystown, Newfoundland and Labrador, Canada
I-35 Interchange Expansion
Feature
J. D. Abrams, L.P. of Austin, Texas is working on a complex I-35 interchange expansion on one of the most congested stretches of interstate in the entire country, with more than 175,000 cars traveling on the roads every day.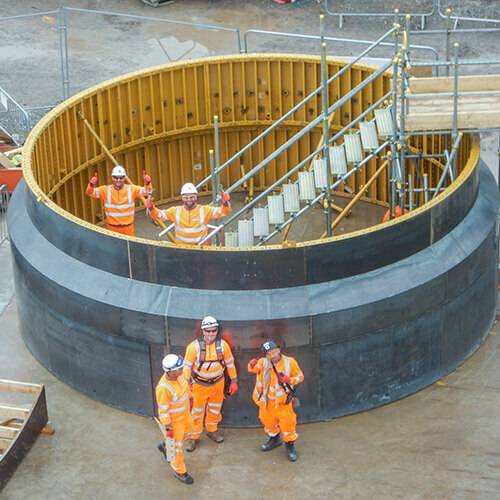 Safety at Sea
Safety Award
In order to provide energy security and prevent power shortages, the United Kingdom is working towards complete decarbonization of the power generation sector by 2050.
Mulatos
Tunnel
As part of the 4th generation highways currently being built in Colombia, the Mulatos Tunnel is a portion of highway called Pacifico 2, which will connect the Department of Antioquia with the Coffee Triangle and the southwest of the country.
Unique V-Columns
The University of Colorado Anschutz campus is one of the largest and most advanced academic medical campuses in the nation and was due for an expansion.
Quality Concrete Finish
Grieg NL Development, Ltd., the project arm of Grieg NL Salmon, Ltd., is currently overseeing the concrete construction portion of their land-based Atlantic Salmon Farm located in Marystown, Newfoundland and Labrador, Canada.
WHO IS EFCO?
At EFCO we believe in rising to a challenge, creating a vision, and providing a solution. We believe in dedication, hard work, and a job well done. We believe in superior service, strong relationships and building lasting impressions.
The Forming Company of Choice