Safety and Perimeter Protection in the Windy City – Chicago, Illinois
Old Town Park Phase 3 Project Complete
Construction is complete on Chicago's Old Town Park Phase 3 Project located near the north side of the city. This slender, modern and sophisticated residential tower was developed by Vancouver-based Onni Group and designed by Chicago firm, Hartshorne Plunkard Architecture. Old Town Park Phase 3 rises 41 stories, contains 456 rental units, office space on its lower levels, a sixth-floor tenant amenity deck and a 193-car garage.
Perimeter Protection System
Assembled Off-site | Delivered Ready To Hang On Perimeter Of Tower
EFCO partnered with Adjustable and II in One Contractors on the project designing both a perimeter protection solution using the EFCO POWER SHIELD® and formwork solution using EFCO's GUIDED RAIL SYSTEM®. EFCO's POWER SHIELD was assembled off-site and delivered to site ready to hang on the perimeter of the tower. This meant the gangs were ready to be quickly picked directly off the truck and flown into place with no additional work. EFCO's POWER SHIELD gangs covered four floors with two floors fully screened to provide protection from the elements. Cantilevered look-out decks were provided to assist in the cycling of equipment.
Core
PLATE GIRDER Used With GUIDED RAIL SYSTEM
For the core, EFCO's PLATE GIRDER® system was used in conjunction with the GUIDED RAIL SYSTEM to provide a rigid assembly using less ties and resulting in a superior finish of the concrete. The GUIDED RAIL SYSTEM enables the formwork to stay attached to the wall and cycle easily, even on windy days, reducing the number of days lost due to weather.
Cycle Shoring Earlier To Keep Up With Aggressive Cycling Schedule
Adjustable is using the GUIDED RAIL SYSTEM® in a +2 configuration which means they can set their deck shoring right to the bottom of the GRS frames. This enables them to cycle their shoring earlier and keep up with aggressive cycles.
Why Trust Anyone Else?
EFCO continues to build our long-time working relationship with Adjustable and II in One with great success at Old Town Park Phase 3. ◊
We were fortunate to have great partners in EFCO in developing the new Power Shield safety system. A lot of hard work went into the planning and implementation of the system on Old Town Park Phase 3. We are proud of the great job by our team, and appreciate the collaboration with EFCO to make this job as safe and efficient as possible.

Eric Lindquist, PE, LEED AP, President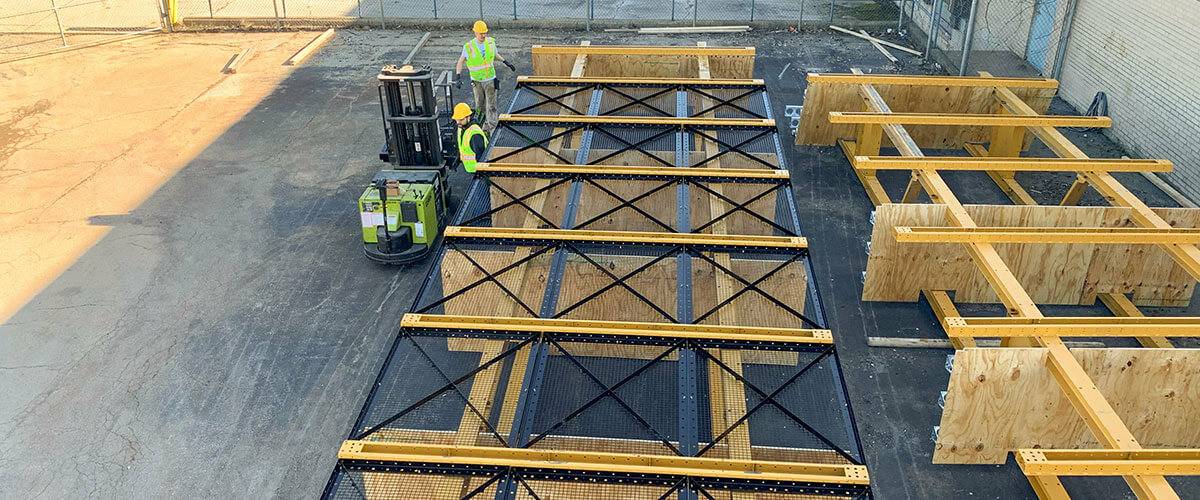 Old Town Park – Phase 3, Chicago, Illinois
Old Town Park – Phase 3
Chicago, Illinois
Old Town Park – Phase 3, Chicago, Illinois
Old Town Park – Phase 3
Chicago, Illinois
Old Town Park – Phase 3, Chicago, Illinois
Old Town Park – Phase 3
Chicago, Illinois
Old Town Park – Phase 3, Chicago, Illinois
Old Town Park – Phase 3
Chicago, Illinois
Old Town Park – Phase 3, Chicago, Illinois
Old Town Park – Phase 3
Chicago, Illinois
Old Town Park – Phase 3, Chicago, Illinois
Old Town Park – Phase 3
Chicago, Illinois
Old Town Park – Phase 3, Chicago, Illinois
Old Town Park – Phase 3
Chicago, Illinois